I mention a lot of different gadgets and machines on my blog, but I wanted to write a post about the ones that I think you should truly invest in.
I'm not being compensated for recommending any of these machines or gadgets; they're ones that I think you should have in your kitchen for various reasons. I know that some of them can be expensive, so you may need to save up for them. Otherwise, that's what birthdays and holidays are for!
These are also things to think about when you're creating your wedding registries. A few of my friends said they felt bad about asking for a Kitchen Aid Mixer for Over $300. Here are a few things to keep in mind. First, one person doesn't have to buy the gadget. I told my gal pal that three of us could go in on a mixer; our friend gets a super awesome gift, and we're not breaking our piggy banks individually. Next, those mixers and other gadgets are often on sale. Macy's is a great place to look because they seem to have sales every week, plus you can use coupons on some of those things too! I've watched items in the kitchen department bounce around in price, so monitor their site to get the best bang for your buck!
Let's get started on my list - 6 Essential Kitchen Gadgets that You Should Invest In: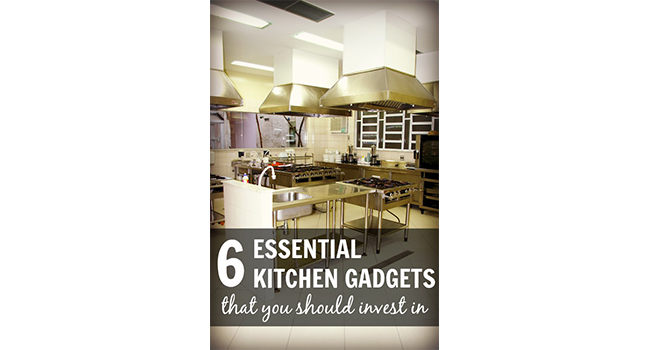 1. Kitchen Aid Stand Mixer
Betcha couldn't guess that this would be #1 on the list! Since I was a little girl, I told my mom that she could get me a Kitchen Aid Stand Mixer for my wedding…and she did! I use this thing several times a week. For Christmas, my mom even bought me an extra mixing bowl.
Don't get me wrong - you can totally buy another brand of a stand mixer, but Kitchen Aid is the only brand of a stand mixer that I've worked with. My mom has had hers for over 30 years, and it still works like a dream. There's something to be said for craftsmanship and reliability.
Some things can only be made with a stand mixer: meringues, coconut whipped cream, and other things that require an intense amount of whipping.
2. Ice Cream Maker
Actually, this can go along with the stand mixer. For my wedding, a few relatives chipped in and bought me Kitchen Aid's Ice Cream Maker Attachment for my stand mixer. It's very easy to use and easy to store. Not planning to have a Kitchen Aid mixer? No problem. There are a lot of other good ice cream makers out there.
Kitchen Aid, OXO, and Cuisinart tend to be my favourite kitchen brands. For ice cream makers, I like this Cuisinart 2 Quart Ice Cream Maker. Cuisinart products are durable and of good quality. Most of my dairy-free ice cream recipes make about one quart, so you have room to spare in the mixer.
Once you get your ice cream maker, some of my favourite ice cream recipes are my Double Chocolate Mint, Homemade Nutella, and Apple Pie.
3. Food Processor
Wow - I cannot explain how much I use my food processor. I make hummus every week, plus many vegan treats like cheesecakes, candies, and cheese balls! Right now, I have a Cuisinart food processor, and it works well. I couldn't find the exact model that I have, but it works well for all the hell that I put it through.
I even have this lovely video of me making pie crust in my food processor:
4. Blender
Again, I cannot count the times that I use my blender per week. I use it for smoothies, obviously, because that's what people think of first when they hear the word blender. But I also use my blender for making ice cream batter, pancake batter, and fruit gummies.
You want to choose a good brand, like Kitchen Aid or Cuisinart. I happen to have a Kitchen Aid blender, mostly because I wanted to have it match my stand mixer. Priorities, people.
5. Bread Machine
Okay, okay, you may not NEED a bread machine. But you do. Like ice cream, traditional store-bought breads contain sketchy ingredients and additives. Doesn't a loaf of warm, fresh bread sound amazing?! It is.
This is for the lazy or non-bread maker - me being the former. I want fresh bread, but not all of the kneading and waiting. With a bread machine, you just load the ingredients and press a button! You can even bake the bread in the machine, although I like to have pretty loaves, so I just throw them in the oven. It's nice to press a button and be done with the recipe, though.
6. Crank Sifter
This seems like a weird recommendation, but I think that everyone should have a sifter - a good one. No more spoon to strainer action! When you need to sift a few cups of flour quickly, use a crank sifter. It goes quickly and doesn't get jammed.
Sifters make your baked goods fluffy and perfect. If you have one, you'll see the difference that it makes. Plus, if you want to get fancy and make macarons, you HAVE to have one. PS - I'm still working on my vegan macaron recipe. Keep your fingers crossed!
There you have it, folks! Consider purchasing these items or adding them to your wedding registry (or wish list). If you enjoy baking and cooking, you'll be glad you did!
Feel free to add your favourite gadgets to the comments below - I'd love to hear them!
Cheers,
-Aileen